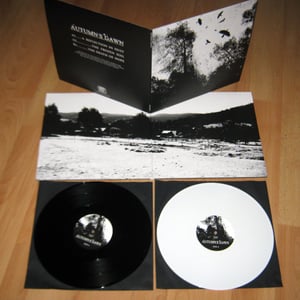 $

15.00
12" Gatefold vinyl edition,
black or white vinyl available.
All orders come with button & sticker while stock lasts.
Autumn's Dawn is a new musical collaboration between two musicians by the names of Sorrow and Anguish. Both having played in numerous bands over the years, the idea for Autumn's Dawn came about in 2013 while Anguish was playing session live guitar for Sorrow's solo project.
Written and recorded in just a few days in late 2013, this 27 minute long debut EP is a brief, raw and honest take on the genre of Melancholic Black Metal, and a mere taste of what is to come from Autumn's Dawn in the future…